---
The Exped DeepSleep Mat 7.5 Duo Sleeping Pad is self-inflating, built in two sizes, and with an excellent temperature rating that makes it suitable for any weather conditions.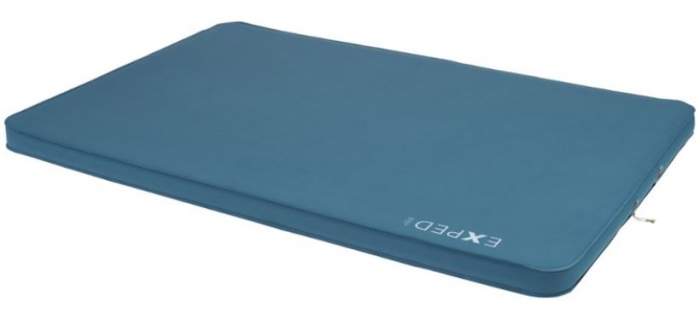 ---
Key features & benefits
Self-inflating.
Double wide.
Two sizes.
Incredible temperature rating.
---
What this is about
This Exped DeepSleep Mat 7.5 Duo Sleeping Pad is from a series of 6 in total. They build it in two duo sizes and four solo sizes. The duo sizes are in focus here, but all of them share the same basic features.
So these are self-inflating sleeping pads with a moderate thickness of 3 inches (7.6 cm) and with vertical side walls. The top shell fabric is quite durable 75D micro brushed polyester with a TPU polyether film laminate. You will want to know that this is a quiet material. It is also hydrolysis resistant, honeycomb embossed, and Oeko-Tex 100 certified.
The bottom is a stronger 75D polyester with the same other features. The insulation is an open-cell PU foam, 16 kg/m² and Oekotex 100 certified.
Temperature rating
This is where the pad shines, its temperature rating is -50.8 °F (-46 C). This is equivalent to R-value of 8.5. On their site they claim this is the official ASTM F3340-18 rating, so it should be reliable.
Other features
When you unfold the pad and open the valves, it will inflate by itself. But it takes some time, give it half an hour or so. There are two low profile but wide valves on one of its ends, see how they look. You can always blow some air in to speed up the process.

To deflate, open the one-way deflation valve and compress the pad with your body. This is a big pad so it is important to deflate it properly in order to place it in its included carry bag. There are straps included to keep it rolled, see the picture below.
Warranty: They show a lot of confidence in this pad because it comes with an incredible 5-year warranty. This is quite unusual to see for products of this type.
Please see more in this short video:
---
Who is this Exped DeepSleep Mat 7.5 Duo for
Regarding the size, as mentioned above you have them in two sizes. I must say that what they call the medium size is quite small and narrow and I do not see it as a pad for two people at all. But the LW version is both long and wide enough for two adults.
I already mentioned its thickness, the number 7.5 in the official name is related to it. So this is moderate, but the pad is very stable and without much plushness, there is no bouncing here, and it is good for any sort of sleepers.
Regarding the best use & climate, the pad is for two people, and you can use it for car camping, to sleep in the car and in the tent. Its temperature rating is simply impressive so you will will be protected from the cold ground in any case, no matter how and where you use it.
Regarding the weight, the pad is quite heavy, you will see the numbers for both options below. The packed size is also such that you need a car for transportation.
Regarding the price, the pad is expensive, but this is a quality product from a renown brand, and it comes with excellent warranty conditions.

---
Specifications
Type: double-wide, self-inflating.
Sizes: M & LW.
Weight:
– M: 7 lb 4 oz (3.29 kg).
– LW: 9 lb 14 oz (4.48 kg).
Dimensions (L x W):
– M: 72 x 40.9 in (183 x 104 cm).
– LW: 77.6 x 52 in (197 x 132 cm).
Thickness: 3 in (7.6 cm).
R-value: 8.5.
Temperature: -50.8 °F (-46 C).
Packed size (L x D):
– M: 22 x 11 in (56 x 28 cm).
– LW: 27.5 x 12 in (70 x 30 cm).
Warranty: 5 years.
---
Final thoughts & rating
In summary, this Exped DeepSleep Mat 7.5 Duo Sleeping Pad offers excellent insulation so you can use it literally anywhere. You have durable materials used in its construction, one of the best known brands is behind this pad, and its warranty is excellent. Fully recommended. I have included it in my lists of best cold weather sleeping pads and best self-inflating camping pads
The table below summarizes my rating for the LW version, and some pros and cons. I use the same rating criteria for all the pads here in the site for easy comparison:
BEST PLACEs TO BUY
For more options, please check under the category Sleeping Pads. Bookmark this site and come again, this will keep you informed because I add texts here regularly. Let me know if you have questions or comments, there is a comment box below. Have a nice day.