---
The Snow Peak Alpha Breeze Tent is a two-layer type, with 4 doors, a great waterproof rating, strong aluminum poles, an awning configuration, and suitable for all seasons.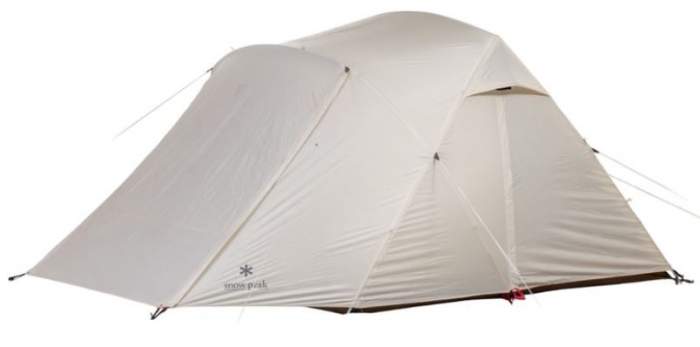 ---
Key features & benefits
4 Doors.
2 Vestibules.
Two-layer tent.
Aluminum poles.
Unique design.
Awning with included poles.
---
What this Snow Peak Alpha Breeze Tent is about
So here you have a tent from the Ivory collection of this brand which they launched exclusively for the North American market. When you see the tent without its fly as in the picture below, you realize that it cannot be placed in any standard group. Without the fly the tent is fully freestanding and self-supporting.
You have a full-coverage fly shown in the top picture above. So with the fly the tent is not freestanding, you have to stake it properly to have its vestibules fully functional.
A unique detail here is that the tent has doors on all four sides. Two of them are visible in the picture below, and the other two you can see in the picture above showing the tent without the fly. All the doors are double-layer construction with a full size mesh and a zippered panel.
The picture below shows the vestibule flap rolled up and fixed above the door. But the tent comes with two extra vertical poles for an awning which you can create here. This extends the covered area outside of the tent.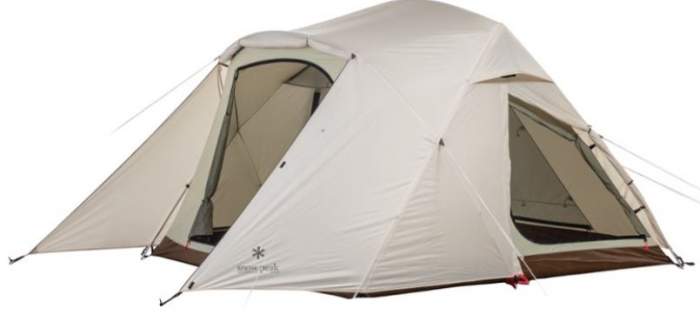 The design is asymmetric in the sense that the side opposite to the vestibule shown above is with a single central zipper on the fly, see the picture below. So that the two vestibules are of a very different area, more about this in the text below. A similar central zipper design you have on the two entrances on the sides that are fully symmetric.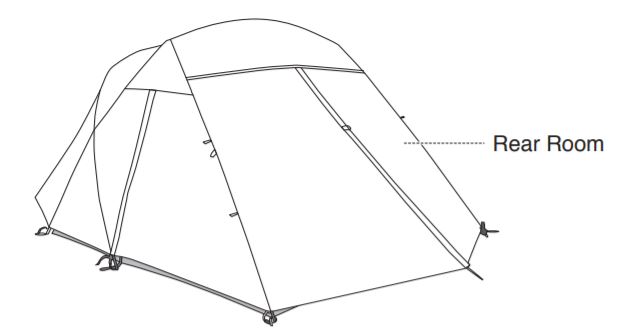 Note that the tent is quite high, the peak height is 73.2 inches (186 cm). So this is a stand-up height for many users.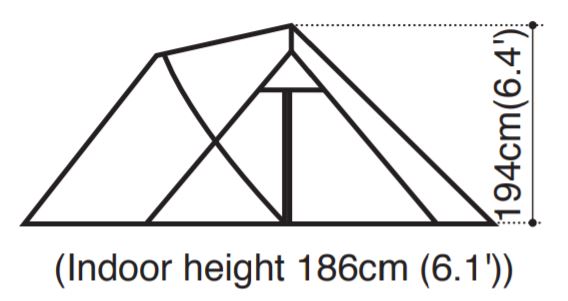 Other features
There are several storage pouches above the floor.
Triangular inner zippered panels match the external vents, one is shown here:
11 Guylines with stoppers, see the picture below.
A seam sealer.
A carry bag with carry handles.
Materials & elements
All the elements in the package are shown in the picture: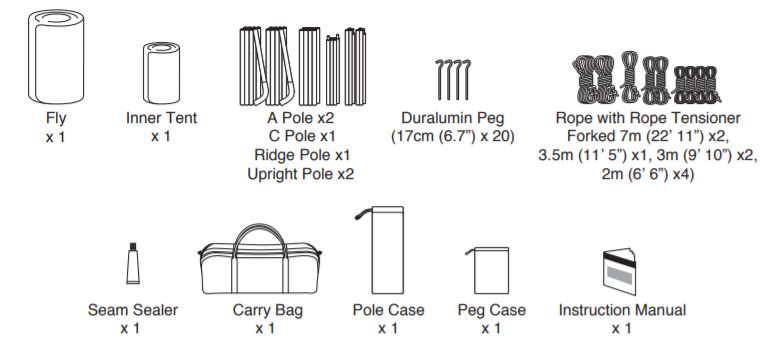 The poles: You have a quality duralumin 6061 with a 16 and 13 millimeters diameter. Everything is color-coded for an easy setup: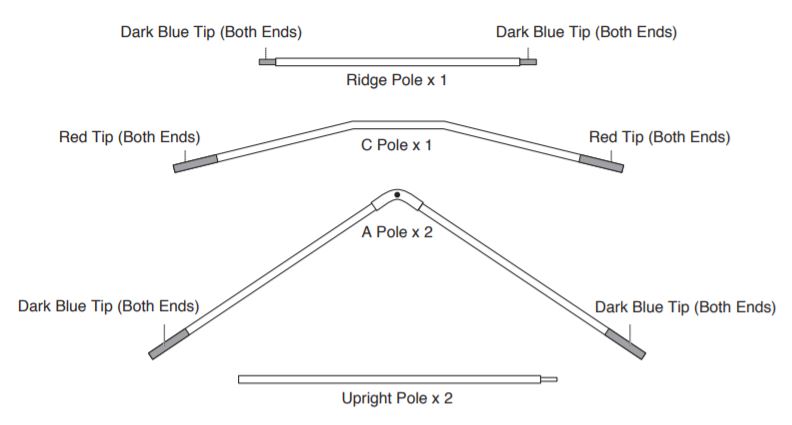 Note that the side poles are straight and they create A-frames, so the tent has some elements of a cabin tent.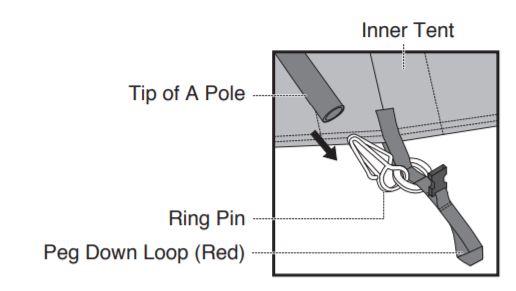 The pole attachment at the tent's base is a sort of a pin and ring system shown above. But on the canopy you have clips and sleeves. The picture below shows the connection of the ridge pole to the A-shaped side frame.
The two awning poles are 170 cm long, and 20 duralumin pegs are 6.7 inches (17 cm) long. The stake points are shown below.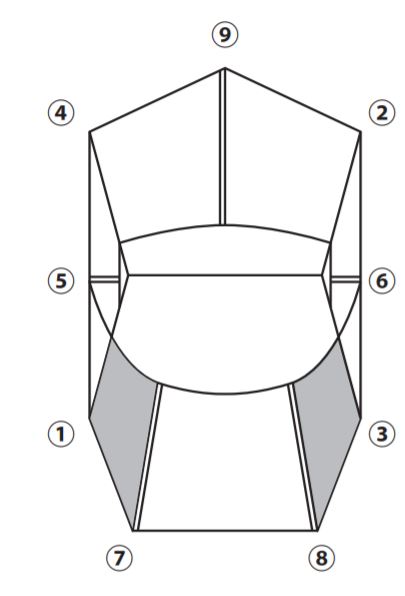 The fabric: The massive fly is a 75D polyester taffeta with a PU coating that gives it a 1800 mm waterproof rating. The inner tent is a 68D polyester taffeta, and the bathtub floor is a very durable 300D polyester Oxford and it has a 5000 mm waterproof rating. So these are all very impressive numbers.
Ventilation
The inner tent is a breathable taffeta, and the 4 huge doors are with full-size mesh. Note that they are fully protected under the full fly so you can keep them with mesh all the time. But if you feel cold, all these doors are closable, you have zippered panels.
The fly goes all the way to the ground but this still allows for air circulation along the tent's perimeter. To increase vertical ventilation, they have added two roof vents. One of them is shown below, they are on the sides of the tent.
Observe that the vents are not completely on the top, this is both good and bad. The good is that there is no way for rain to get in when it is windy. The bad is that vapor trapped in the top section under the fly cannot escape easily. So this is a trade-off.
You have already seen that the inner tent has closable inner vents that match the fly vents. So they have done everything properly here. I am impressed with all this.
Please see more about the pad in this short video:
---
Who is it for
Regarding seasons & climate, this is a true two-layer tent. So you have a breathable inner taffeta tent and all the openings are closable. The fly is a full-cover type and its waterproof rating is very good. The floor is thick and waterproof, and the poles are strong and with a few intersections where you have Velcro tabs to fix everything in place.
On the other hand, the tent is nicely ventilated. So this is a strong construction suitable even for 4 seasons and for all climates. Note that at REI they describe it as a 3-season tent, and frankly speaking I do not see why. There are many officially declared 4-season tents that are inferior to this structure.
Regarding the capacity, the tent is officially for 3 – 5 people. For this you have the floor area of 77.17 ft² (7.17 m²). This would give 19.3 ft² (1.8 m²) per person and this is quite good.
But there are also 2 vestibules, though they do not give the numbers for their size. My guess is that you have around 33 ft² (3.1 m²) of the total covered space there. The floor plan below shows how they look, so you realize that the rear vestibule is only for boots and shoes. But the front vestibule is large enough for two camping chairs and a side table.
So all in all, I would say this is a tent for up to 4 users and they have lots of space for all the gear. I see this capacity mentioned also at REI and at some other places.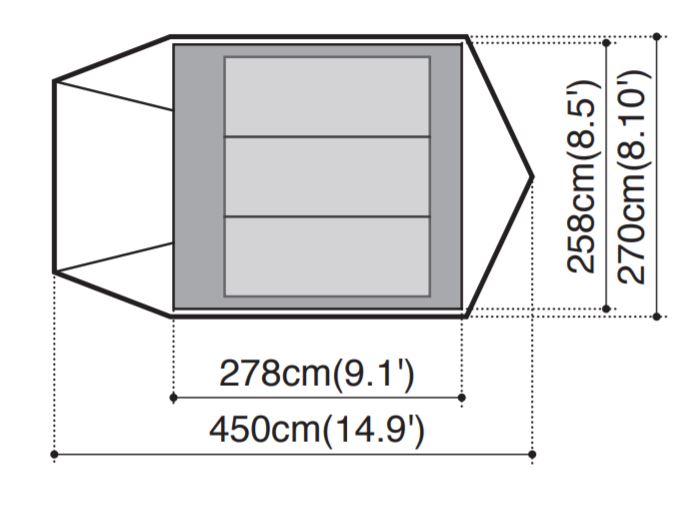 Regarding the weight, the tent is quite heavy with its 24.2 lb (11 kg). The carry bag measures 25.2 x 10.6 x 9 inches (64 x 27 x 23 cm) so this is small enough to be transported even on a bicycle. But this is not a tent to carry anywhere. I have included it in my list of best 4 person car camping tents.
---
Specifications
Official capacity: 3 – 5 people.
Weight: 24.2 lb (11 kg).
Dimensions (L x W): 14.76 x 9 ft (450 x 270 cm).
Floor area: 77.17 ft² (7.17 m²).
Inner area per person: 19.3 ft² (1.8 m²).
Vestibules area: around 33 ft² (2.7 + 0.4 m²)
Inner height: 6.1 ft (186 cm).
Packed size: 25.2 x 10.6 x 9 in (64 x 27 x 23 cm).
---
Final thoughts & rating
So this Snow Peak Alpha Breeze Tent is an impressive outdoor shelter, suitable for all seasons and all climates. You have high quality and durable materials, the tent is nicely ventilated and with an incredible design that includes 4 doors.
The Japanese brand behind this tent is globally known and it has been around for more than half a century already. I can fully recommend this tent. I have added it to my list of best winter camping tents, but it is more than that.
I use the same rating criteria for all the tents here in the site so that you can easily compare. See how this tent stands:
BEST PLACEs TO BUY regarding shipping and price:
The Snow Peak brand is highly appreciated by top online sellers and with all the good reasons, so you have quite a number of places to order this tent:
For more options, please check under the category Tents for 4 People. Bookmark this site and come again, this will keep you informed because I add texts here regularly. Let me know if you have questions or comments, there is a comment box below. Have a nice day.