---
The Teton Sports Deer Hunter Sleeping Bag is one of the largest on the market, it is warm and pleasant, but also bulky and heavy, built in two temperature ratings.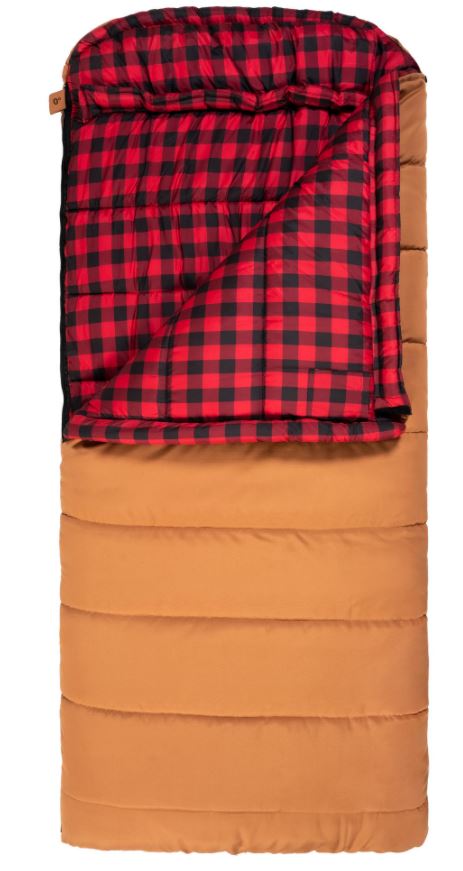 ---
Key features & benefits
All-synthetic sleeping bag.
Huge dimensions.
Two possible temperature ratings.
Incredible price.
---
What is in the name
This Teton Sports Deer Hunter Sleeping Bag is in fact a complete series of several sleeping bags. They build it in two temperature ratings, and also in two versions with a left side zipper and a right side zipper. They build it in two different color combinations, they are shown in the pictures here.
This sleeping bag is hooded, and they have added a few nice details here. There is a baffle in the shoulder/neck area, and also along the zipper. One baffle is also along the hood perimeter. They are visible in the picture below. Note also that the neck baffle has Velcro closure of its own, so this is a great detail if you want to prevent cold drafts.
You also have two draw cords, one on the perimeter of the hood, and one close to the mentioned shoulder baffle. This all is in place to prevent cold drafts.
This bag has two pockets, one with a zipper is outside and the other with Velcro is inside, they are located close to the end of the zipper. Note also that there is a flap with a Velcro at the end of the zipper, this is added to avoid the bag getting unzipped during the night.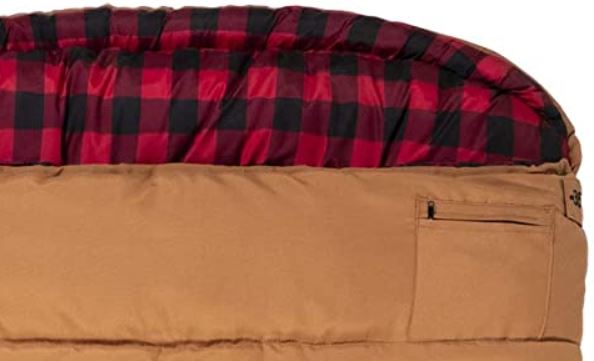 The sleeping bag has sewn-in compression straps at the bottom, they are with buckles so you can compress the bag after you roll it up length-wise. This means you have a rolled tube that is the width of the sleeping bag itself, see how it looks:
It comes with a canvas duffel carry bag which is wide so that packing the sleeping bag inside is easy.
Left and right zippers, what is this for?
The zipper is a two-way type, so you can unzip it from the top or from the bottom.
This about zipper side seems to be confusing for some readers. So when you are in the bag and you are on your back, if the zipper is on the right, this is then the right-side zipper. You can see it in the top picture above.
Note that the zipper goes all the way to the bottom, but it does not continue around the foot box. In other words, you cannot open this bag completely and use as a blanket.
This with zippers on two possible sides may be useful for left-hand and right-hand users, but there is yet another reason. Namely, you can zip together two of these bags. But note that they must be with two different sides for zippers.
So if you have one bag with left zipper, and one with right zipper, you can zip them together. In this configuration, the zippers will be in the middle of the combined double-wide bag. The zipper baffles will prevent cold drafts at the connection. The previously mentioned Velcro flap from one bag attaches to the Velcro tab on the other bag and this keeps the zipper in place.
Also, the mentioned Velcros on the neck baffle will allow you to close the gaps around the neck and you will not have drafts when your partner turns around and moves.
Materials and insulation
There may be some confusion here too because of terminology they use to describe this sleeping bag. So bear in mind this is a completely synthetic bag.
But the shell fabric is a pleasant polyester that is soft and looks like a cotton canvas. On the other hand, the liner is also a very pleasant poly-flannel. So this is a 100% brushed polyester.
This bag has two separate layers of inner insulation. This is what is normally described as an offset construction. This means that stitching on one side (say the inner) is in the middle of the outer baffles, and vice versa. This is the best way to avoid cold spots which you have in the sleeping bags where stitching goes completely through to the other side of the sleeping bag.
The fill is what they call the SuperLoft Elite Hollow Fiber, so this is a synthetic material that performs great in any weather conditions. It maintains its loft well and it is non-allergenic.
Temperature ratings
You can choose one of the two options, 0˚F (-18 ˚C) and -35 ˚F (-37 ˚C). Now, is this realistic? There is no independent testing provided for this. On the other hand, we are all different, and feeling of cold is different.
The bag has all the elements that you would expect from an item designed for cold weather. But note that it is huge, which is good for its overall comfort, yet this is not a thermally efficient design.
So, add (at least) positive 10 ˚F to the official rating, just to be sure. Or even better, test the bag in controlled conditions and you will know for sure.
---
Who is it for
Regarding the best use & climate, you have seen its two temperature ratings, so this is a great bag for cold weather, there is no doubt about this.
Regarding the size, it is one of the largest around, the dimensions are (L x W) 90 x 39 inches (229 x 99 cm). This includes the hood, but see the width. So this is a sleeping bag for big users and also for those who normally feel claustrophobic in a sleeping bag. I am one of them.
Regarding the weight, there is a huge difference between the two options, but both are heavy and bulky. So this is a car camping sleeping bag.
Regarding the price, it is more than fair, a great value for the money.

---
Specifications
Type: rectangular.
Temperature rating: 0˚F (-18 ˚C) and -35 ˚F (-37 ˚C).
Weight:
– For 0˚F bag: 8.5 lb (3.86 kg).
– For -35˚F bag: 17.5 lb (7.94 kg).
Dimensions (L x W): 90 x 39 in (229 x 99 cm).
Packed size (L x D):
– For 0˚F bag: 38 x 9.5 in (97 x 24 cm).
– For 35˚F bag: 38 x 11.5 in (97 x 29 cm).
---
Final thoughts & rating
So this Teton Sports Deer Hunter Sleeping Bag is well-built and with some really useful details like the mentioned pockets. It has many elements introduced to protect you in a cold environment, and you can also choose between the two different temperature ratings.
This is an enormous size sleeping bag, and the price is great. Fully recommended. I have included it in my list of extra wide sleeping bags for adults and also in the list of best extreme cold sleeping bags.
Below you can see how I rate this sleeping bag against my usual rating criteria so that you can easily compare it with other products of this type. I take the version 0˚F (-18 ˚C).
BEST PLACEs TO BUY regarding shipping and price:
For more options, please check under the category Sleeping Bags. Bookmark this site and come again, this will keep you informed because I add texts here regularly. Let me know if you have questions or comments, there is a comment box below. Have a nice day.